Mar 14, 2023
General News
James Gibbas Promoted to Police Sergeant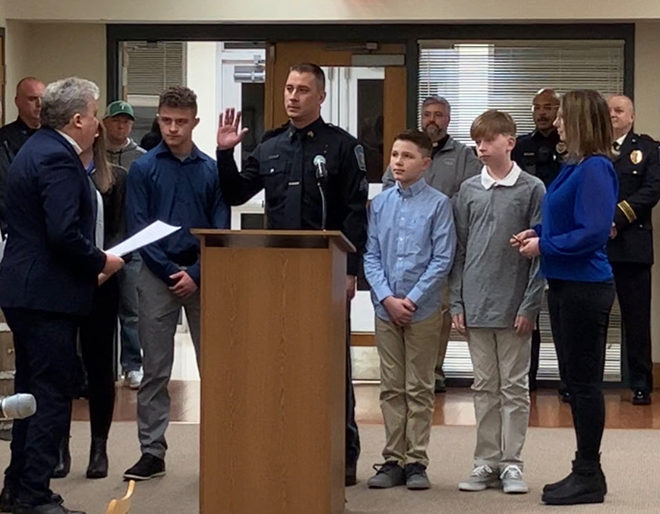 photo courtesy of Lt. Geoffrey Wainwright

Officer James Gibbas was promoted to Sergeant at the Board of Supervisors Meeting on March 8th.  Jim began his career with Towamencin's Police Department in 2009, where he assigned to the patrol division. Jim has served as a patrol officer since his hiring. In 2016, he was selected to become a Field Training Officer, or "FTO", earning responsibility for the training of newly hired officers when they start in patrol. In 2019, Jim was then named as an Officer in Charge, a supervisory assignment on a patrol squad in the absence of the squad's assigned sergeant, and has served in the OIC leadership capacity for his assigned patrol squad since 2019. 
Jim continued his law enforcement training and professional skill development over the course of his career at Towamencin, earning both the respect and admiration of his peers, as well as, several awards of recognition for meritorious service to the department and the community. Jim took his oath of office with his wife and children by his side.
We congratulate Sergeant Gibbas on his well-earned promotion and wish him success as he continues serving our community in his new role.
---
Towamencin Sewer Sale Update
At last week's Board of Supervisors Meeting (March 8th), an update on the sewer sale was provided. NextEra Water Pennsylvania LLC (NextEra), the intended purchaser of Towamencin's Sewer System, made the Township aware of its business decision to redirect efforts away from water and wastewater acquisitions to focus more on renewable energy projects. Toward this end, NextEra intends to assign its contractual rights and obligations under the Asset Purchase Agreement (APA) to Pennsylvania American Water (PA American). PA American is the largest water and wastewater utility in the Commonwealth. With nearby operations in Norristown, Royersford, Yardley, Coatesville, and Upper Pottsgrove, PA American can create efficiencies and synergies in its operations and create savings for residents.
This ownership change relative to the Asset Purchase Agreement requires Board action, including: an amendment to the APA; preparation of an Assignment Agreement; and an amendment to the Sewer Sale Ordinance.  
The APA Amendment will include: 
A revised sale price of $104 million (the average of the two utility valuation expert appraisals)
Removal of the 2-year rate freeze
Return of additional deposit and escrow monies to Next Era
Change to "Outside Date" definition to accommodate for any unforeseen hurdles that may arise
The Assignment Agreement will assign NextEra's interests in the APA to PA American. The Sewer Sale Ordinance Amendment will include replacing NextEra with PA American as the Successful Bidder.
If such action is taken by the Board, PA American will file with the PA PUC. The PUC approval process will then commence with PA American as the successor. As consideration for this ownership change and its associated costs, NextEra will pay Towamencin Township $600,000—which includes the initial $100,000 deposit and an additional $500,000.
By a 4 to 1 vote, the Board authorized the Township Solicitor and Special Counsel to take all needed steps to prepare the APA Amendment; Assignment Agreement; and the Sewer Sale Ordinance Amendment for Board consideration at its March 22, 2023 meeting.
---
Online Processing Fee Increase - Effective April 1st
Earlier this month, the Township was informed that its online payment processor will be increasing its fees for credit card and ACH payments effective April 1, 2023. For those wishing to pay sewer and tax bills online, the rates will change as follows:
ACH Payments
Currently:            $0.95 per transaction
As of April 1:       $2.50 per transaction
 Credit Card payment:
Currently:          2.79% with a $1.50 minimum
As of April 1:     2.99% with a $2.50 minimum
---
Upcoming Meetings
The Environmental Advisory Council will meet tonight, Tuesday, March 14, at 7 pm
The Government Study Commission will meet Wednesday, March 15, at 7 pm
The Board of Supervisors will meet Wednesday, March 22 at 7 pm. 
Meetings take place in the Meeting Hall Building of the Towamencin Municipal Complex, located at 1090 Troxel Road, Lansdale.
---
TVFC - Ladies Auxiliary Designer Bag Bingo  - Friday, March 24th, 7 pm
Location: Station A - 1590 Bustard Road, Harleysville, PA 
Event Flyer, Ticket Prices:

Advanced $25 per person, $200 reserved table of 8
if available at the door - $30 per person, $240 reserved table of 8
Tickets include: 20 rounds (6 cards per round) including 4 special games, 50/50
Extra game cards available for purchase
1 Grand Prize Game
Pick your own bag
Dabbers available for purchase
---
Towamencin Rain Garden Workshop - April 27
Have you ever wanted to learn more about rain gardens? Join us to explore how rain gardens reduce stormwater runoff and filter pollutants while providing a wildlife-friendly addition to your home landscape. Learn about different stormwater management techniques for your property, with an in-depth discussion on rain garden construction and maintenance.
Township residents will be inspired by an informative indoor presentation by Perkiomen Watershed Conservancy staff and will get to take home native plants for their gardens. New this year - the EAC is generously offsetting the cost for residents, so this workshop is only $10 per person and includes three native perennials. Spots are limited so register today!  Register here. 

Date/Time: Thursday, April 27 at 6:30 pm
Event flyer & location: Township Meeting Hall - 1090 Troxel Road, Lansdale, PA
photo courtesy of Perkiomen Watershed Conservancy