Environmental Advisory Council
Our Environmental Advisory Council (EAC) advises township officials to help inform decision-making regarding environmental issues. The EAC is involved in planning new conservation initiatives and community environmental education efforts. The EAC consists of up to 7 volunteer members appointed by the Board of Supervisors for 3-year terms. EAC members must be residents of Towamencin Township. Meetings are open to the public and held on the second Tuesday of each month at the Township building.
 Environment Advisory Council Members (3-year term)
Rory Kelley, Chairman - term expires 12/31/25
Joseph F. Meehan - term expires 12/31/24
Donna Hegge - term expires 12/31/23  
Amy H. Mawby – term expires 12/31/23
Brett H. MacKay - term expires 12/31/23
Vanessa Gaynor - term expires 12/31/25
Kelly Bonsignore - term expires 12/31/24
Recap of Spring 2023 Community Events
Our EAC members were keeping busy in April and making us proud. On April 15th, several EAC members and local volunteers participated in the Perkiomen Watershed Conservancy (PWC)'s annual Stream Clean-up. Towamencin Township is part of the Perkiomen Watershed and the Towamencin Creek is a tributary of the Perkiomen Creek. The Stream Clean-up removes trash, tires, scrap metal, and other debris from the streams in the watershed. Our EAC members were pleasantly surprised how little trash was found in the target areas around Fischer's Park, that they had time to head down Kriebel Road to clean-up by the new trail. Items collected:  10 full bags of trash, plus, a car hood, metal pole/stake, long PVC pipe, and a traffic cone
The Environmental Advisory Council (EAC) encourages Township residents to participate in the annual Stream Clean-up with many sites located in our area, including local parks with segments of Towamencin Creek running through them. It's a great way to fulfill community hours, while helping the local watershed! Look out for information on volunteer opportunities next February for the 2024 Stream Clean-up.
Rain Garden Workshop
On April 27, our EAC sponsored a Rain Garden Workshop at the Township's Meeting Hall Building. The workshop was coordinated with the Perkiomen Watershed Conservancy, where residents learned how rain gardens reduce stormwater runoff and filter pollutants, while exploring other stormwater management techniques to use at their property. The workshop included an in-depth discussion on rain garden construction and maintenance, then participants constructed a wildlife-friendly addition to their home landscape. This event included a discounted price of $10, which our EAC helped to subsidize with budgeted funds.
The rain garden plants used included:
New York aster (Symphyotrichum novi-belgii)
Swamp milkweed (Asclepias incarnata)
Sweet flag (Acorus americanus)
Downspout Planter Workshop Recap – May 12, 2022
On Thursday evening, May 12, the Township's EAC held their Downspout Planter Workshop at Fischer's Park, led by Perkiomen Watershed Conservancy Conservation Coordinator, Beth Myers. Beth guided participants through the steps of planting and installing a downspout planter at their home. The event was $30 and included all necessary supplies and materials.  A downspout planter that attaches to your downspout will divert rainwater into the planter and is a great solution to reduce the amount of stormwater on your property.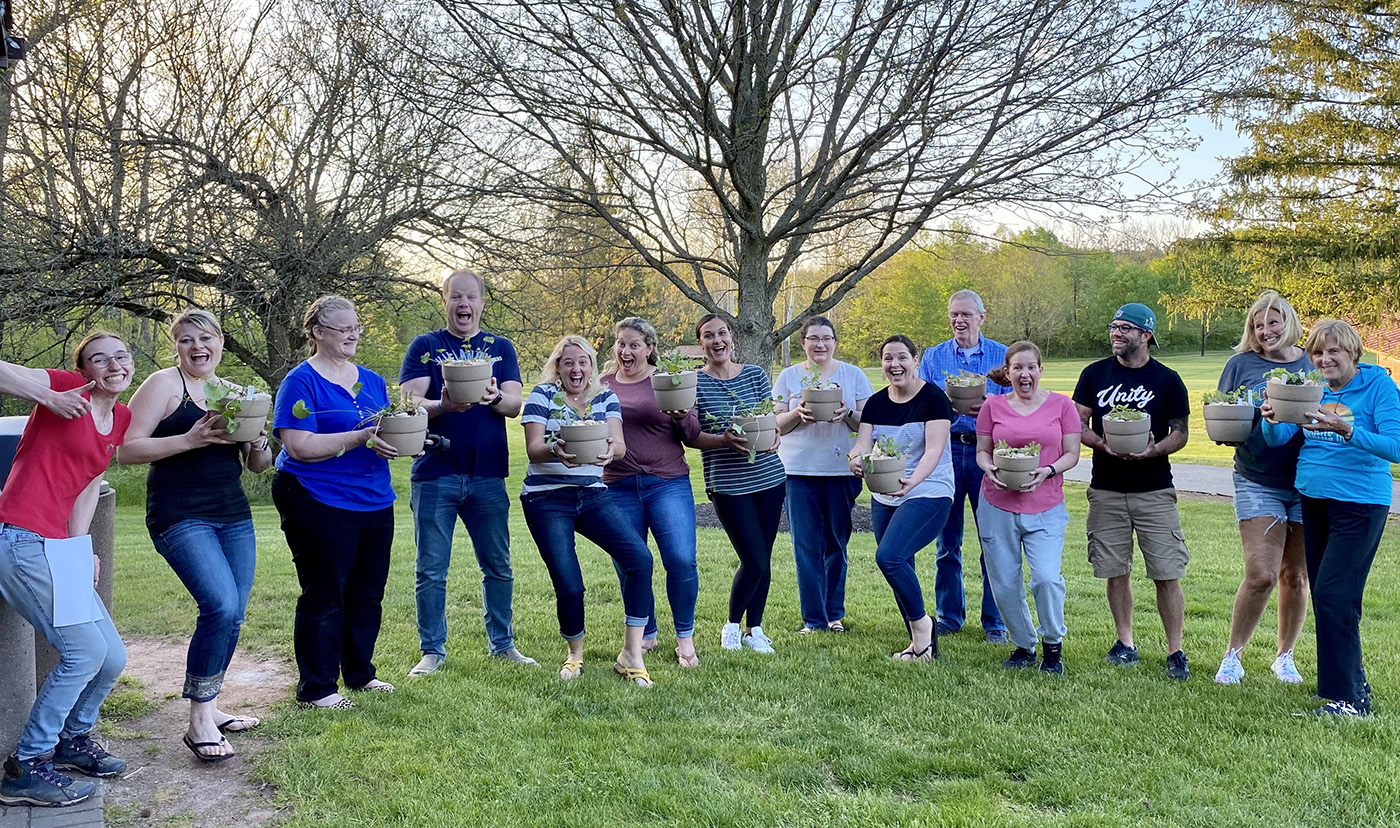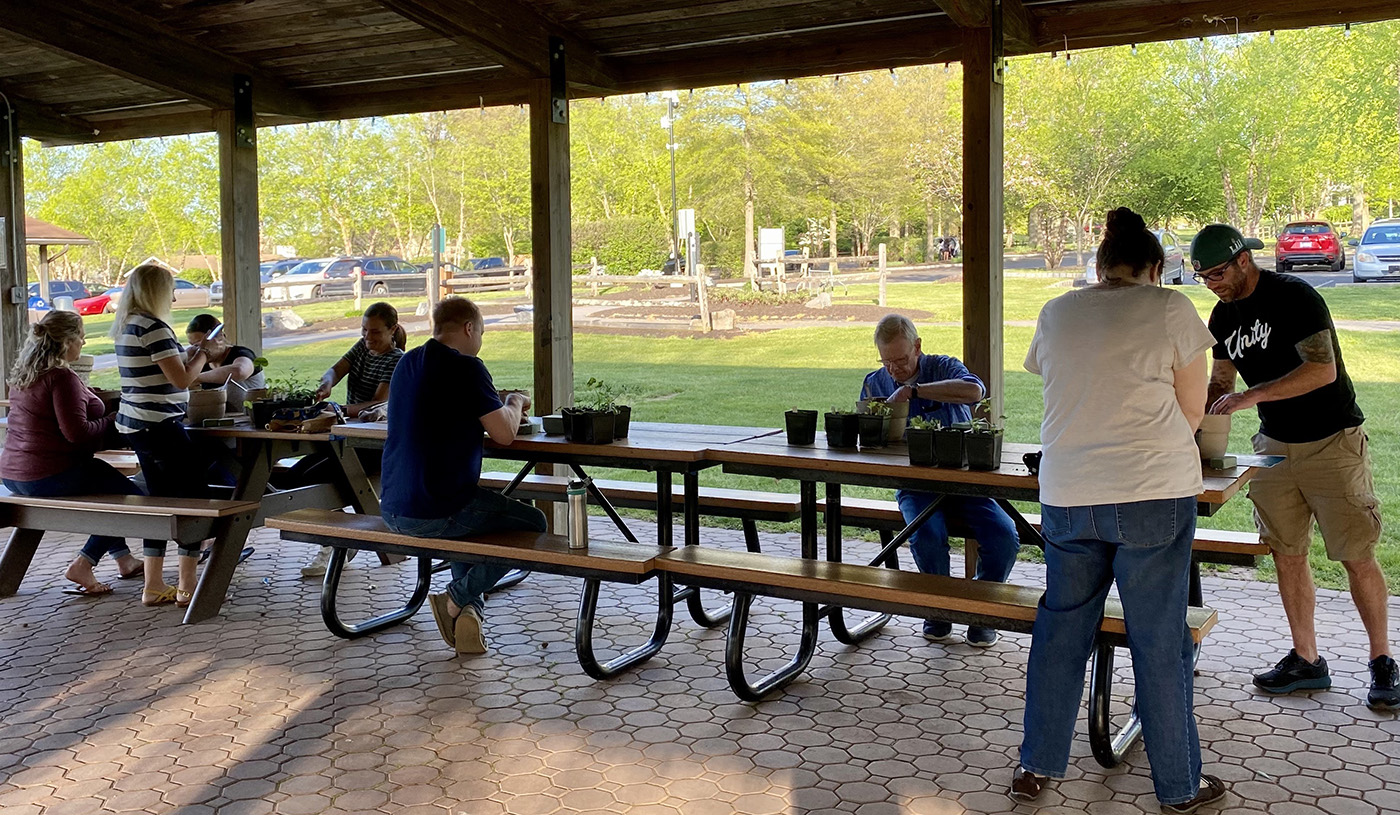 Photos courtesy of Amy Mawby
Perkiomen Watershed Conservancy's Stream Clean-up Recap - April 2, 2022

The Perkiomen Watershed Conservancy (PWC) held their 2022 Stream Clean-up event on Saturday, April 2. Towamencin's EAC promoted the event, mobilizing several Township residents to take part in the local stream clean-up. Towamencin was well-represented with multiple clean-up sites, including segments of the Towamencin Creek by Fischer's Park, Firehouse Park and Bustard Park. The stream clean-up volunteers removed trash, scrap metal, tires and other debris from the streams within the watershed.