Located in the south-central portion of the Township, 77 acre Fischer's Park is Towamencin's largest park facility. The Township's Parks and Open Space Advisory Committee and the Supervisors have designated it as open to all, but not intended for use by organized leagues or teams. These regularly scheduled activities tend to dominate park use and lessen opportunities for spontaneous recreational activities.
The facilities located here include: 5 covered pavilions, 3 plus miles of walking trails with numerous benches and rest spots, 2 playgrounds with equipment for youngsters, 2 regulation bocce courts, a fishing pier, open meadow areas for children to run around and numerous game tables for chess, checkers or other table games.  The Meadow View pavilion houses restrooms. In addition, there is the Arneth Entertainment Center which provides a sheltered performance venue for Township movies and musical events in the warmer months. The audience can enjoy the entertainment while relaxing in the grass meadow having a picnic with friends.
The park is split by Towamencin Creek which contains a dam that creates a small pond. The waterway and dam are surrounded by natural areas that provide a quiet setting for meditation and add to the park's aesthetic value. The fishing pier is available at the pond for those who want to practice their angling skills. The park is a favorite destination for people to exercise or to walk their dogs. There are over one hundred parking spaces just inside the main entrance to accommodate visitors. 
As with other Township Parks, residents are invited to use the park to celebrate special events with family and friends.  Always check with the Township Manager's office before scheduling an event to confirm availability.  Groups exceeding twenty-five (25) people must obtain a Parks Facilities Use Permit from the Township Manager's office in advance. Download and view the Park Permit and Pavilion Rental information and permit forms.
Fischer's Park's main entrance is located off Bustard Road just south of Morris Road. Its address is 2225 Bustard Road, Lansdale, PA 19446.
Pavilion Rentals
Fischer's Park also possesses picnic and cookout facilities available for rent to Township residents and businesses. Groups are invited to celebrate their special event at Fischer's.
Water availability - the Meadow View Pavilion bathrooms have hand washing facilities. There is also a water bottle filler for use at the Meadow View Pavilion. There are no additional water hookups for use at each pavilion.
Trail Distances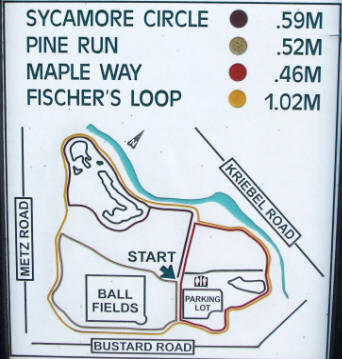 Fischer's Park Master Plan
In June 2009, Towamencin Township began developing a Master Plan for Fischer's Park. The plan will document existing conditions, set goals, and recommend improvements to facilities (play equipment, paths, pavilions, and other features). The project schedule is nine months and will include fact finding, concept development, draft pan, and final plan stages. At the conclusion of the plan, the Township will identify funding sources for priority projects.
Arneth Entertainment Center
Local Artists Design Memory Wall
During the winter and spring of 2006, students from General Nash, Walton Farm, and Inglewood Elementary along with members of the North Penn High School Art Club created more than 75 original ceramic tiles depicting "Life in Fischer's Park". Mounted in a fieldstone masonry wall, it serves as a perfect gateway to the Arneth Entertainment Amphitheater to be erected in spring/summer 2007.
The Towamencin Township Board of Supervisors is grateful to those sponsors, teachers, and student artisans who made the tile wall possible.
The Arneth Entertainment Center
Overlooking the historic meadow in Fischer's Park, The Arneth Entertainment Center will provide opportunities for concerts, theater, outdoor movies, and art events for years to come