Sep 15, 2022
General News
Detwiler Road Partial Closure (between Wambold Road & Delp Drive) - September 26
On Monday, September 26, Towamencin's Public Works Department will perform road work to address a sink hole - replacing an associated underground stormwater line - along Detwiler Road, between Wambold Road and Delp Drive.
Therefore, Detwiler Road will be closed to traffic at Wambold Road starting at 7 am, with no traffic allowed through this stretch the entire workday, see road closure below. Access will be available along Detwiler Road from Forty Foot Road to Delp Drive.
---
Police Department News
Travis Wood Promoted to Police Sergeant
After a thorough process, including a written test, oral interviews and a management assessment, Travis Wood was selected and promoted to Police Sergeant at the Board of Supervisors Meeting on August 24, 2022.
Beginning his career at Towamencin in 2006, he served as a patrol officer until 2010, when he was assigned to the highway safety unit as a traffic safety officer. In this role, Travis earned certification as a crash reconstructionist, which he uses to investigate crashes throughout the North Penn region, as he serves on the regional crash investigation team. In 2012, Wood earned qualifications as a firearms trainer and serves as a field training officer for new officers of the department.
Sergeant Wood earned his bachelor's degree in criminal justice from Mansfield University and his master's degree in homeland security from St. Joseph's University. Throughout his career, Travis has been committed to ongoing training and professional skill development.
We congratulate Sergeant Wood on his well-deserved promotion and wish him the best in this new role!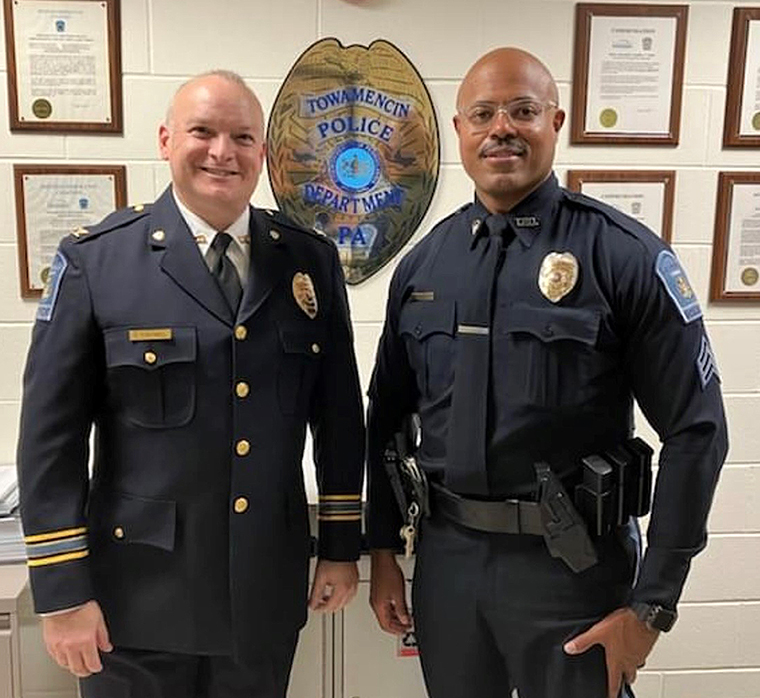 Police Department honored for their commitment to the County's Crisis Intervention Specialist Program
At the Board of Supervisors Meeting on August 24th, Anna Trout, Director of Crisis and Diversion at the Montgomery County Department of Health and Human Services (DHHS), and Michelle Monzo, of Montgomery County Emergency Service (MCES), presented Chief Tim Troxel and the Towamencin Police Department with a plaque commemorating their collective accomplishment and dedication by attaining 100 percent participation in the MCES Crisis Intervention Specialist Program. Ms. Monzo noted attendance of the program is not a County or State requirement, but that the Towamencin Police Department has made it a requirement; adding that two-thirds of the department are enrolled for the CIS Advanced class. The skills the officers have acquired through the program have made them invaluable resources to the community and the mental health system. 
The Crisis Intervention School through MCES builds officer skills through education on mental illness, aims to increase empathy, and decrease the probability of criminal justice system involvement.  This school teaches trainees how to interact with individuals in crisis and provides guidance on county resources.
---
Movie in the Park (Addams Family 2) - Thursday, October 6th



Time: dusk (6:30 pm)
Location: Fischer's Park - 2225 Bustard Road
Cost: Event is free
Start celebrating the Halloween season early and bring the family out to enjoy The Addams Family 2 under the stars!  FREE popcorn will be available. Candy/snack sales TBA. Don't forget your blankets and chairs! 
---
Towamencin Day - Saturday, October 8 (Rescheduled Date)

Time:  12 pm - 4 pm
Location:  Fischer's Park - 2225 Bustard Road
Cost: Event is free
We are excited to announce a rescheduled date for our annual community day on Saturday, October 8th! NEW this year is Ax Throwing. We are welcoming back FREE face painting/balloon animals, pony rides, police/fire activities, inflatables, magic shows, and much more! The event includes live music, food court, and an array of vendors and local community groups. This is a great event for the whole family and residents of all ages. Come out, support your local vendors, and enjoy a beautiful day in the park!
12:00 pm - Opening Ceremony with National Anthem
12:00 pm - 2:00 pm - Montgomery County Concert Band
2:00 - 3:00 pm - The Dance Centre
3:00 - 4:00 pm - Action Karate of North Wales
Interested in being a vendor in October, register here.  Feel free to forward this event information to those who may be interested.
---
Turkey Trot 5K - November 12
Time to start training for the Turkey Trot 5k Walk/Run! This is a great race for runners or walkers of all levels. The course is certified with chip timing, race photographer, and all runners get a long sleeved tech shirt. The overall male and female winners receive turkeys and all of those placing 1st-3rd in each category get medals. There is a children's 10 and under fun run, no registration necessary. The award ceremony takes place right after the race and offers light refreshments to runners and spectators.  Pets and strollers are welcome.  Day of event registration increases to $45 and not guaranteed a shirt so register early!
Location: Fischer's Park - 2225 Bustard Road
October 9th  – Early Registration Ends and Price Raises to $35
November 6th  – Online Registration Ends
November 10th  – Shirt/Bib Pick up at Township Building 9am-7pm
November 12th - 7:30 am Shirt/Bib Pick up at Race, 8:00 am Fun Run, 9:00 am Race, 10:00 am Award Ceremony